and a dollar short, fuck it. im pretty much gonna post a mega post for my laggage. first off...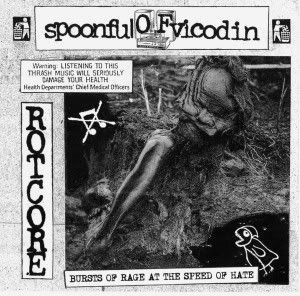 SPOONFUL OF VICODIN's Bursts of Rage at the Speed of Hate
its sick as fuck, has a fear of god cover in it too. dont relaly know where to drop the pin, id say somewhere inbetween grind and power violence. it has 27 seven tracks:
1-13 are from the s/t 7"
14-18 are from the 4 way split with LOADED FOR BEAR, REPUBLICORPSE and DECEIVER comming soon.
19-22 are from the ROTCORE take comp comming soon.
23-27 is "random ass shit"
download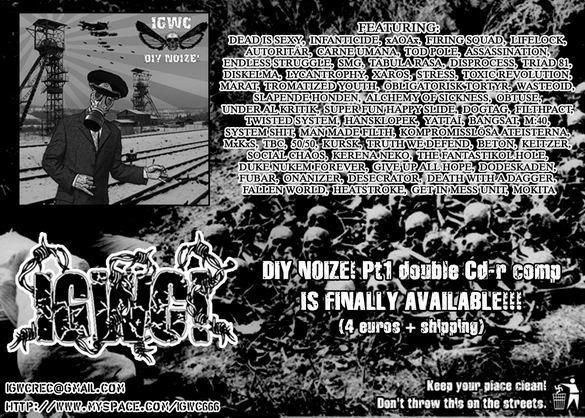 click to make bigger!
IGWC recs. DIY Noise comp. part 1
its a comp with a lot of good bands from all over the world, check out the picture above. its two discs so its two downloads. This shit took me fuckin forever to upload so enjoy.
Download disc one
Download disc two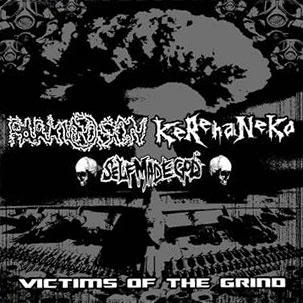 Victims of the Grind - Parkinson, Kerena Neko and Selfmadegod threeway split.
3 great bands from southeast asia...its just straight up noisy grindcore from begining to end, amazing cd. glad to have this one. it has some dope art work ill try to put up later. Kerena Nekos name is misspelled twice too haha, on the photo it isnt there but ill post up mine soon enough!
download
Apathetic Ronald McDonald's 2004-2008 Discography
as the title says, and what can you expect from ARM, its great. picked it up at their "last show". which aparently wasnt the real one. good thing.
download
Libido Airbag's Miss Melanoma
in my opinion no one has been able to match these guys, especially this cd in the cybergrind genre.
download
Genocide's We Rape The Sky, We Rape The Hell
dope cd, crust grind to the max.
download